---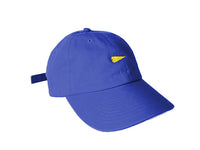 Introducing the Classic Pennant Dad Hat, the perfect accessory for DIE HARD fans! This unstructured Blue & Gold Pennant Dad Hat is proudly MADE IN USA, constructed with 100% cotton for ultimate comfort and durability.

Specifications:


Material: Made from 100% cotton, this hat is unstructured, providing a relaxed fit that conforms to the shape of your head. The cotton chino twill fabric is cut-washed for a classic, worn-in look and feel.
Design: The hat features a low-profile, 6-panel soft crown, giving it a timeless and stylish appearance. The Classic Pennant, a symbol of die-hard fandom, is prominently displayed on the front of the hat, showcasing your unwavering support.
Adjustable Strap: The hat comes with an adjustable self strap, allowing you to customize the fit to your preference. The hide-away side buckle ensures a secure closure while maintaining a clean and streamlined look.
Pre-curved Bill: The pre-curved bill adds a touch of sporty flair to the hat, providing shade and protection from the sun. It is designed to retain its shape over time, ensuring a consistent and polished look.
Cleaning: To keep your hat looking its best, spot cleaning or hand washing is recommended. This helps preserve the integrity of the fabric and prevents any potential damage from machine washing.

The Classic Pennant Dad Hat is the ultimate accessory for DIE HARD fans, combining comfort, style, and quality. Show your dedication and support with this MADE IN USA hat that features the iconic pennant design. Get yours today and wear it proudly as a symbol of your fandom!