---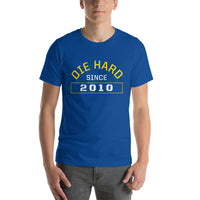 Gear up for the ultimate sports fan experience with this exceptional t-shirt. Crafted with care, this garment is designed to fulfill all your dreams and more. Its premium quality ensures a soft and lightweight feel, while the perfect amount of stretch guarantees optimal comfort and a flattering fit for both men and women.
• Material: Made from 100% combed and ring-spun cotton, this t-shirt combines breathability with durability. The heather colors incorporate a touch of polyester for added versatility and style.
• Weight: With a fabric weight of 4.2 oz (142 g/m2), this shirt strikes the ideal balance between being substantial enough to withstand everyday wear and light enough to keep you cool during intense sports events.
• Construction: The shoulder-to-shoulder taping enhances the t-shirt's structural integrity, ensuring it maintains its shape over time. The side-seamed design further contributes to its durability and long-lasting performance.
Sporting this t-shirt, you'll feel like a champion, ready to cheer on your favorite team with unwavering passion. Whether you're at the stadium, watching from home, or celebrating at a sports bar, this garment is a perfect companion for every fan.
The male model, standing at an impressive 6.2 feet (190 cm) tall, showcases the t-shirt in size M. His chest circumference of 37.7" (96 cm) and waist circumference of 33.4" (85 cm) highlight the shirt's versatility, accommodating a range of body types.
Equally impressive is the female model, who stands at 5.8 feet (178 cm) tall. She also wears size M, with a chest circumference of 34.6" (88 cm), waist circumference of 27.16" (69 cm), and hip circumference of 37.7" (96 cm). This t-shirt effortlessly flatters her figure, offering a comfortable and stylish fit.
Get ready to elevate your sports fan game with this extraordinary t-shirt. Its impeccable design and superior quality make it an essential addition to any fan's wardrobe, embodying the spirit of unwavering support for your beloved team.


Size guide
| | | | | | | | | |
| --- | --- | --- | --- | --- | --- | --- | --- | --- |
|   | XS | S | M | L | XL | 2XL | 3XL | 4XL |
| Length (inches) | 27 | 28 | 29 | 30 | 31 | 32 | 33 | 34 |
| Width (inches) | 16 ½ | 18 | 20 | 22 | 24 | 26 | 28 | 30 |